Anna Wintour, as an editor of Vogue, is taken as the most influential figure in fashion industry but is she is the only one? Let me introduce another great editor before her time, Carmel Snow of Harper's Bazaar...
Anna Wintour

VS

Carmel Snow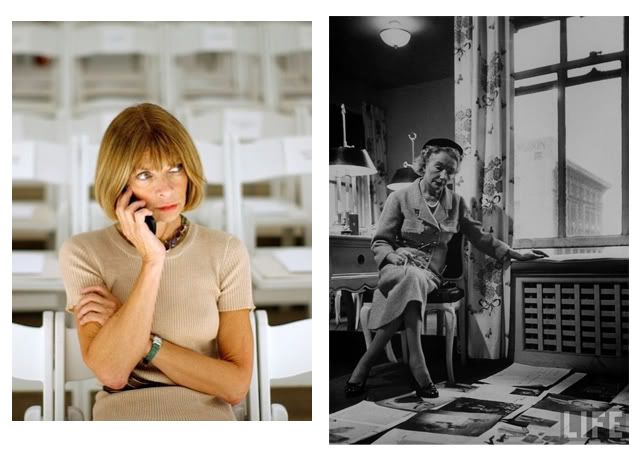 Anna Wintour (on the left) making calls while waiting for the show to begin
/
Carmel Snow (on the right) examining some layouts in her office.
The Magazine:

Vogue (1988 til now)

/

Harper's Bazaar (1934 -1958)
The cover of Vogue September issue of 2007 which is the thickest ever published is showed Wintour success
/
one of the cover in the time of Carmel Snow from photographer, Richard Avedon.
Soul mate art director (or creative director for Vogue):

Grace Coddington

/

Alexey Brodovitch
(on the far right)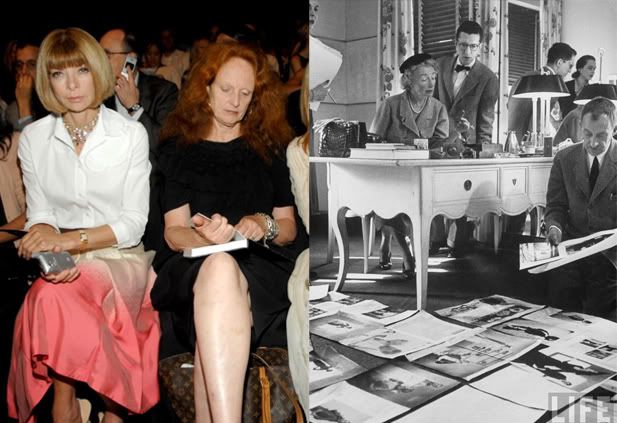 15 years of working side by side they created a lot of amazing things together. "Anna and I, we've known each other a long time....We have a real mutual respect for each other, even though sometimes I feel like killing her." said Grace Coddington.
/
Alexey Brodovitch's innovation of
Bazaar
's iconic Didot logo, and the cinematic quality that his obsessive cropping brought to layouts (not even the work of Man Ray and Henri Cartier-Bresson was safe from his busy scissors) making Harper's Bazaar at the time very modern.
Magazine's contributers:
Mario Testino, Steven Meisel, Bruce Weber, Herb Ritts
/
Richard Avedon, Man Ray, Dali, Henri Cartier-Bresson


Achievements:
Wintour bring Vogue US back to life with her first cover by mixing Christian Lacroix $10,000 t-shirt with $50 jeans and now it could say that she one of the people who shaped the industry
/
Snow make a fashion-magazine history by be the first to created an "action" shot by took picture of model running to the camera by the sea. Before that fashion was carefully staged on mannequin-like models in a studio. She also discovered Diane Vreeland and made her fashion editor (which she become another great editor at Vogue later).


Personal life:
Snow with Coco Chanel

Wintour rise before 6 am. everyday to plays tennis and has her hair and makeup done, then gets to
Vogue
's offices at 8 a.m. She always arrives at fashion shows at their scheduled starting time to make some phone calls and notes.
/
Snow had a lifelong love affair with the three-martini lunch and injection of vitamin B12 (she hardly ate or slept). She also have wicked sense of adventure (she evaded customs by snipping the labels out of her Parisian couture).
Dressing style:
Wintour is famous for her Bob haircut and a sunglasses. This been her signature for many many years.
/
Snow in the other hand is always been seen with her little round hat on her lilac hair.


Encouraged Designers:
Alexander Wang, John Galliano, Thakoon
/
Christian Dior, Cristobal Balenciaga and make Chanel back to be popular again in her 70s.
The funny things is both editors have little figure, very energetic and both had been working at both magazine, Harper's Bazaar and Vogue. What a messy!
So which corner do you go for, blue or red ?
xoxo,
Pan's Holiday